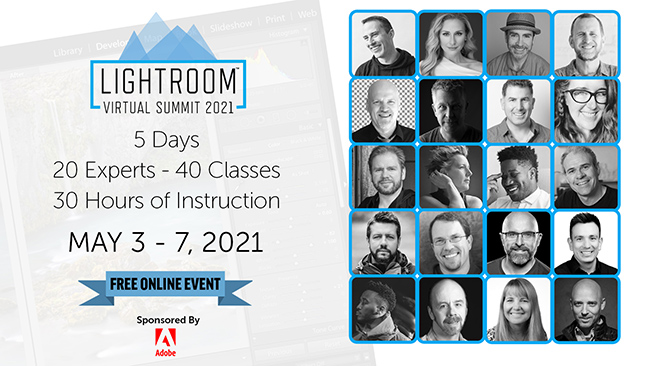 Hi everyone
I have participated in several of these virtual summits and they are excellent and FREE !!!!
Lightroom coming up in MAY 2021 – Photoshop apparently planned for later in the year. Sponsored by ADOBE
World class instructors and highly informative – I can recommend them, please see below.
Coipy of my invitation email:
The Lightroom Virtual Summit
May 3 – 7, 2021
20 expert instructors teaching 40 classes – over 30 hours of content! And you can watch it all for free!
I'm thrilled to be teaching alongside a great line-up of instructors including Ben Willmore, Colin Smith, Mark Denney, Matt Kloskowski, Lisa Carney, Sean Bagshaw, Glyn Dewis, Kristina Sherk, Chris Orwig, Aundre Larrow, Anthony Morganti, Tobi Shinobi and many more. The list of classes is equally amazing – I can't wait for you to see all the great sessions!
All classes are free to watch for a 48 hour period once they go live, and there's an optional VIP Pass available for purchase that gives you lifetime access to the recordings of all classes, along with audio recordings, instructor-provided class notes and exclusive bonuses.
You can get the details here and sign up for a free pass
https://www.lightroomsummit.com/?r_done=1
There are classes for beginners and veteran users on a wide range of topics, from getting started in Lightroom to workflows to hidden tricks and much much more. It's going to be an amazing week of education from some of the top Lightroom instructors in the world! I hope you can join us.
Dave Cross